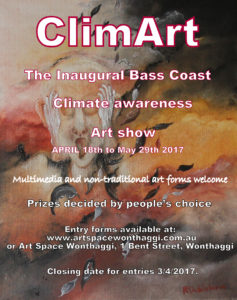 The Inaugural Bass Coast Climate Awareness Art Show:
18th April to 29th May 2017
Due to a planned power outage on Sunday 30th, Oral Works have been rescheduled for presentation on Saturday April 29th, with times depending on number of entries, but starting at 2 pm.
Groundswell Bass Coast is collaborating with ArtSpace Gallery Wonthaggi to hold an Art Show entitled "ClimArt" on the theme of climate-change.
The exhibition was hung on the 18th of April and the exhibition and can be viewed until May 29th.
The exhibition was officially opened by Councillor Geoff Ellis on Sunday 23rd of April with many in attendance.
There will also be a LATE NIGHT opening for Creative Gippsland Come and Play on Saturday 13th of May 6 – 8 pm.
All unsold work will need to be picked up between 1 – 3 pm on 29th May 2017.
If you have any queries please contact Bron Dahlstrom 0423545677 or by email brondahl@gmail.com