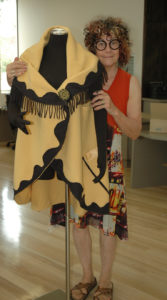 I bring recycled fabric, clothes and every-day objects to another life. My body of work encompasses garments, costumes, jewellery, hats, handbags, painting and sculpture.
I create wearable art. I upcycle and recycle. I take apart wearable garments and turn them into something else. I hate working with patterns, I prefer to fold, twist and bend the material until a suitable shape emerges.
Many of the costumes come complete with striking jewellery and other accessories – although I also make stand-alone pieces. I am constantly seeking out everyday objects and materials to create my jewellery. An Egyptian inspired necklace as an example can be made from old hinges wired together, with bits of a lapis lazuli bracelet in between, while a neck piece is fashioned from lava rock and Cambodian copper coins.
I have now branched out into sculpture and painting.  I sculpt amongst other things Grecian warriors, crafted from old dress-maker's dummies covered in gold leaf and with a natural Verdigris.
This is my first year of entering art prizes:
2017 – Best other medium, Inverloch Art Show
2017 – Best Contemporary work, Bass Coast Art Society Exhibition
2017 – Best in Show, Art Society Phillip Island Exhibition [winner of YAC award).
Karin's Gallery will be uploaded soon.