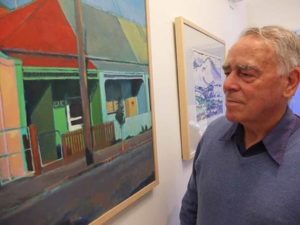 I have been a compulsive painter since my late teens, trained as a tonal painter at Swinburne by Laurence Scott Pendlebury. I enjoy experimenting with a variety of styles and media. I like the freedom.
I also enjoy studying the history and methods of artists of all periods and places, and passing on my knowledge to others.
I was born in 1935 and haven't stopped painting. I consider myself to be a Painter and Educator as I studied for a Diploma of Fine Art at Swinburne Technical College and am a trained technical teacher.
I am the winner of numerous awards for painting, including: Camden Prize (Vic. Artists' Society) 1963, Georges Invitation Award 1967, Diamond Valley Acquisition Award on five occasions and the Bass Coast Acquisition Award on five occasions, most recently in 2013.